Here are answers to some frequently asked questions about Zonta membership and our club. Want to know more? Contact us at [email protected]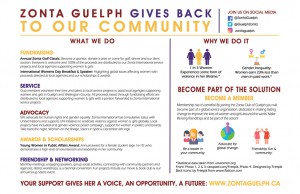 Who is eligible to become a Zonta member?
Zonta is a classified organization and membership is open to anyone over the age of 18. We enthusiastically welcome new members who can answer 'YES' to the following questions:
I am willing to commit time to service and advocacy projects in my community.
I am willing to contribute to, and raise money for, local and international projects that benefit women.
What are my responsibilities as a member?
Attend club meetings and club events
Participate actively in meetings and deliberations
Commit time and skill to committee work
Identify and suggest prospective members
Financially support the programs funded by the Zonta International Foundation
Fulfill the mission and vision of Zonta
How many members does the Zonta Club of Guelph have?
As of November 2021 there are 11 members from a wide range of ages and diversified occupations.
What does it cost to become a member of the Zonta Club of Guelph?
Our year runs from May 1 – April 30. First year membership fee is $215.00 which is prorated if membership begins after January 1. After that, the annual fee is $190.00.
How often does the Club meet?
With the exception of March, July August, our members gather on the second Wednesday of each month for a meeting or social event which, in addition to conducting club business, usually features an interesting and relevant guest speaker. Monthly general meetings start at 6:30. Currently, we conduct meetings virtually via zoom until it is safe for us to return to in-person gatherings.
The first step towards becoming a member is to attend a monthly business meeting to learn more. If interested, please contact [email protected] and you will be contacted by the Membership Committee. We also invite you to explore the Zonta International website and the District 4 website