Zonta Club of Guelph Monthly Electronics & Bottle Drive:
NEW FORMAT – TWO OPTIONS:
OPTION 1 DROP OFF at 1 of 5 LOCATIONS: Drop off 7 days a week from 9 am to 5 pm   
NORTH: 46 CROSS CREEK BLVD               EAST: 58 PLEASANT RD
SOUTH: 10 HARTWOOD CRT                       KW: 15 LOCUST ST
PUSLINCH: 7057 WELLINGTON RD 34
Please be respectful of drop-off locations and place donations in the area where a bottle drive sign is posted. 
OPTION 2 SCHEDULE A PICK-UP: Can't drop off to one of our drop-off locations, contact us at [email protected] & we can schedule a pickup. Minimum pickup of $10 worth of bottle/can returns or a cash donation along with the pickup can be arranged.
PLEASE READ: If possible sort bottles by size and colour and place them inside boxes. Cans can be in boxes or bags and if possible write a can count on the outside of the bag. Charitable donation receipts for donations of $20 or more will be provided (you can combine bottle donations and cash to get to a $20 min.) Please provide us with your name, email address and can/bottle count to count towards your donation.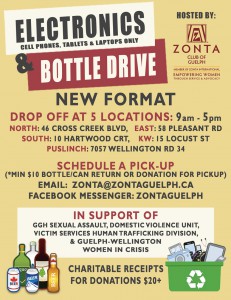 What We Accept? ***PLEASE NOTE ELECTRONICS ACCEPTED BELOW:
Please support Zonta & women in your community by donating your laptops, cell phones, ipads, tablets, liquor & wine bottles, tetra packs & bags in-a-box, beer, cider, and cooler bottles & cans.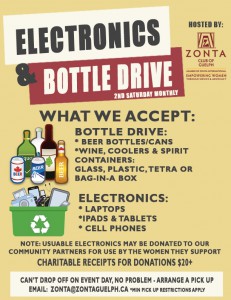 Who we are? & Where the money goes?
Every $ we collect goes back into helping women and children in our community. See our poster below to learn more: