Benefits of Membership
Enjoy the opportunity to work with a diverse group of talented and committed professionals who seek to make a difference in the lives of women locally and around the world.
Experience the rewards of personal growth in a supportive atmosphere and the enjoyment of years of friendship.  Take advantage of the warmth of international fellowship.
2019 marks the Zonta Club of Guelph 40th Anniversary! We salute 4 of our Charter members who attended the Christmas Social Event.
Barbara Fera, Judy Brisson, Catharine Collins and Michelle McMillan.
Join Us
This biennium, Zonta International calls on parents, educators, administrators, law and policy makers to address PREVENTION OF ROOT CAUSES THROUGH EDUCATION and to facilitate effective mechanisms that will ensure ERADICATION of VIOLENCE AGAINST WOMEN once and for all.
Michael House Donation 2020
Michael House is a Pregnancy and Parenting Support Service in Guelph, Ontario. Michael House provides a variety of services which include shelter and support during pregnancy, childbirth, and early parenting.
During our General Meeting this past Wednesday the Zonta Club of Guelph toured this wonderful (and much needed) facility and was proud to present Michael House with a cheque for $1,000. Our support will be going to purchase new beds for the primary residence.
2022 Young Women in Public Affairs Award Information
 For more information, via email contact, [email protected] 
Click Here for application instructions. Click 2022 YWPA Application for APPLICATION.
Zonta Club of Guelph Bottle Drive 2022
Click Here for More Info: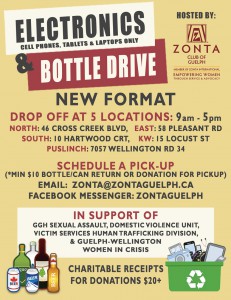 Congratulations to 2021 Young Women in Public Affairs Applicants
This year's recipient of the $500 Scholarship is Alexandra Elmslie.